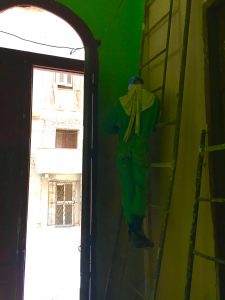 The plan is to take a train into the interior after orienting ourselves in Havana for a few days.
The cab from the airport costs 25CUC, pronounced kooks, and short for Cuban Convertible Pesos, which traded one-for-one with the dollar minus a conversion charge of 10-15%. Euros aren't charged commission.
The cabbie isn't interested in trading the fare for a 16 gig memory stick, which he says are in demand for listening to music and watching movies but doesn't need, and
drops us at a building that looks war-torn. We enter, adjust our eyes to the light and a voice calls out of the obscurity to us. Sarge points back to the doorway, and a youngish man dressed in a lime green work suit is high up on a ladder painting the wall the same color. He points to a door and tells us to ring the bell for the elevator. Inside two women are chatting and stop to say they'll call our Airbnb host after they drop us off on the second floor.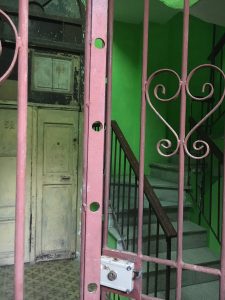 We wait a few minutes in a hallway looking at the wrought iron cage encasing the entrance to the next door apartment. Once inside the apartment is thoroughly modern, except our host Janet asks us not to flush toilet paper, because the plumbing clogs easily, and instead put it in the trash, which will be collected each morning.
The next morning, I decide on a paperless poop, and shower after my morning ritual.
Janet hasn't heard of the Yuban and warns that the train service is slow and unreliable. Undeterred,
we take a cab to the train station, a temporary shed-like building behind a grand station under repair, take a photo of the schedule board, chat with the help desk and walk back amongst areas that range between opulence and complete urban decay. The buildings remind Sarge of his childhood in wartime Beirut.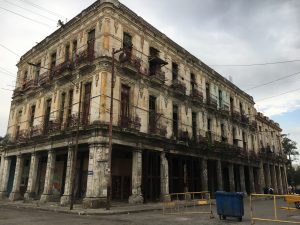 It's all very pleasant, though, no one is trying to sell us anything other than a taxi ride, people stroll about, kids play soccer. We stop for refreshment in a luxurious Iberostar hotel, and then later at another hotel to use the internet and eventually pick our way past the crumbling buildings and up the century old stairway to our apartment.
At breakfast, Janet tells us she can fix her apartment but the building is owned by the government and she can't repair the stairwell or the exterior.
The work so far has been concentrated on the Prado and nearby historic areas where we stopped the night before. Janet said she is waiting to see what happens with the crumbling buildings across the street.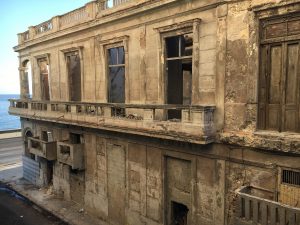 She's a dentist who rents her home on the side to make ends meet because she earns 50 CUC a month. She doesn't pay property taxes, health care or student loans, but doesn't have much leftover for luxuries, if they are available.
Her husband, however, makes more than her renovating apartments and houses. Two years ago, the government allowed sales of private homes. The apartment we're staying in cost 15,000 CUC. She furnished it with items bought in Venezuela, where she lived for six years as part of an exchange program that traded Venezuelan oil for Cuban medical care under the Chavez regime. The Cuban government waived import duties and shipped the goods for her.
Her sister lives in Canada, and she would like to visit the US if it's allowed, but is worried about violence there.
"I never saw a gun on the street until I went to Venezuela. Here you can walk anywhere, anytime," she said.
I don't feel insecure at all as we walk the streets and I don't feel any tension when members of various races interact, most likely because everyone is being screwed equally. I tell her, shootings in the US are primarily drug-related or domestic violence cases, but that doesn't seem to comfort her.