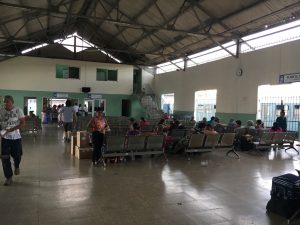 Unlike earlier, the station is crowded when we arrive 90 minutes early. Sarge made sure we lugged a doggy bag from lunch along with a few water bottles and napkins. I opted to see what awaited us: a tray full of sandwiches with a painted metal sign next to it reading "Pan con Puerco 123.5 g $5.00." That turned out to be the price in Cuban pesos, not CUCs, or about 20 US cents each at the 24-1 CUP/CUC exchange rate. They were delicious, just one bit of grizzle in the moist, roast pork sandwiches served on the buns that are sold everywhere.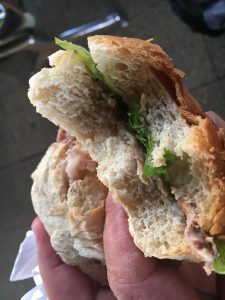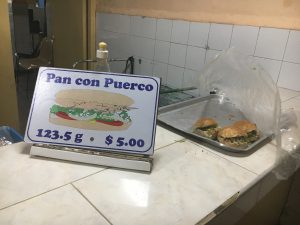 I go to the bathroom and on the way out a guy sitting on a chair counting bills makes a hissing sound to get my attention and says I have to pay.
"Cuanto será?"
"Depende, de donde eres?"
So, I tell him I'm from NJ but of Spanish parents. Meanwhile, a soldier/police man in khakis wanders over to see what's going on.
"Really? I have a twin in NJ. Ok, give me something small."
I tell him my friend has change and I go and get some.
We settle in to wait and the train before is delayed, worrying us a bit. Our train comes in on time but we have to cross the tracks behind the delayed train and step onto the platform, all while a steady rain starts to fall, blowing into our cabin through a cockeyed window we can't fully close.
The conductor comes back a few minutes later and I ask her to let us know when we are getting close to Santa Clara, which should be about 1 a.m., according to the schedule. She tells us flatly that it will take eight hours, not four.
Underway, our burly cabin mate shows us photos of his son, his ex-wife, his current wife and her two children. Yovani says his father left in the Mariel boatlift and he hasn't seen him since. He plans to join his wife in Florida in a year or so if all goes well. His wife talks to his father, he's not that interested.
A vendor comes by and Yovani buys us a beverage in a bag we open with our teeth and suck out through the hole.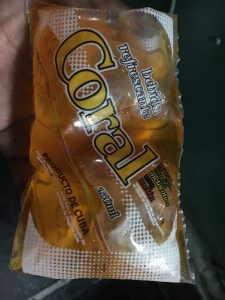 The kids in the next cabin are heading to a nearby city for a music festival, paying 10 pesos for their ticket, or about 40 cents, while ours cost 10 CUCs.
We fold down the seats to form the six seats into three beds of sorts. Our cabin mate warns us to push our shoes under the seat so they aren't stolen, despite the fact two officers are patrolling constantly, and we watch lightning flash over the sugar cane.