Monthly Archives: June 2018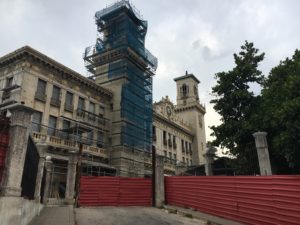 Dear reader:
The first chapter of my account of our recent trek across Cuba has curiously disappeared, so here it is again, with a brief explanation of the journey's purpose.
As I peruse my account again of the journey across the island by train, I feel I embarked on the adventure a bit like a modern day Don Quixote, full of ideas spawned by competing propaganda, advertising and commercial interests mixed with the mystery of a land locked away for decades, still bubbling with the thoughts of Carpentier, Marti and the like. I hope you can forgive my naïveté and biases and enjoy my tale.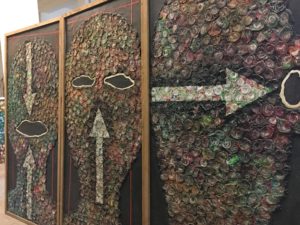 We must find the elusive Yuban people. Apparently, they were an African tribe that escaped from slavery and preserve their culture and music up in the Cuban hills, including the first freeze dried coffee.
It's an ancient African technique that is lost to time.
They must've found a way to do it with Vibranium they brought from Fecunda. (I mean geranium, I don't want to step on Marvel's toes.)
The plan is to take a train into the interior after orienting ourselves in Havana for a few days.
The cab from the airport costs 25CUC, pronounced kooks or Seh-Ew-Seh, and short for Cuban Convertible Pesos, which traded one-for-one with the dollar minus a conversion charge of 10-15%. Euros aren't charged commission.
The cabbie isn't interested in trading the fare for a 16 gig memory stick, which he says are in demand for listening to music and watching movies but doesn't need, and
drops us at a building in central Havana that looks war-torn. We enter, adjust our eyes to the light and a voice calls out of the obscurity to us. Sarge points back to the doorway, and a youngish man dressed in a lime green work suit is high up on a ladder painting the wall the same color. He points to a door and tells us to ring the bell for the elevator.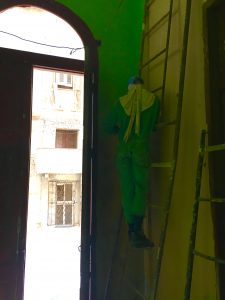 Inside two women are chatting and stop to say they'll call our Airbnb host after they drop us off on the second floor. Sarge thinks they must live in the elevator from the collection of items around them, a radio that looks like a beer can, a chair, a few snacks.
We wait a few minutes in a hallway looking at the wrought iron cage encasing the entrance to the next door apartment. Once inside the apartment is thoroughly modern, except our host Janet? asks us not to flush toilet paper, because the plumbing clogs easily, and instead put it in the trash, which will be collected each morning.
The next morning, I decide on a paperless poop, and shower after my morning ritual.
Janet hasn't heard of the Yuban and warns that the train service is slow and unreliable. Undeterred,
we take a cab to the train station, a temporary shed-like building behind a grand station under repair, take a photo of the schedule board, chat with the help desk and walk back amongst areas that range between opulence and complete urban decay. The buildings remind Sarge of his childhood in wartime Beirut.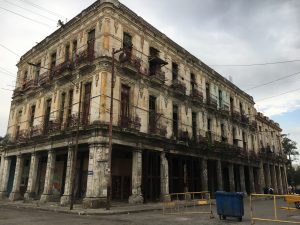 It's all very pleasant, though, no one is trying to sell us anything other than a taxi ride, people stroll about, kids play soccer. We stop for refreshment in a luxurious Iberostar hotel, and then later at another hotel to use the internet and eventually pick our way past the crumbling buildings and up the century old stairway to our apartment.
At breakfast, Janet tells us she can fix her apartment but the building is owned by the government and she can't repair the stairwell or the exterior.
The work so far has been concentrated on the Prado and nearby historic areas where we stopped the night before. Janet said she is waiting to see what happens with the crumbling buildings across the street.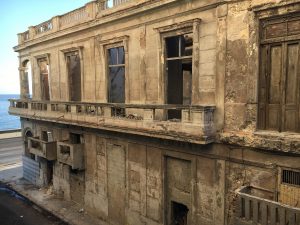 She's a dentist who rents her home on the side to make ends meet because she earns 50 CUC a month. She doesn't pay property taxes, health care or student loans, but doesn't have much leftover for luxuries, if they are available.
Her husband, however, makes more than her renovating apartments and houses. Two years ago, the government allowed sales of private homes. The apartment we're staying in cost 15,000 CUC. She furnished it with items bought in Venezuela, where she lived for six years as part of an exchange program that traded Venezuelan oil for Cuban medical care under the Chavez regime. The Cuban government waived import duties and shipped the goods for her.
Her sister lives in Canada, and she would like to visit the US if it's allowed, but is worried about violence there.
"I never saw a gun on the street until I went to Venezuela. Here you can walk anywhere, anytime," she said.
I don't feel insecure at all as we walk the streets and I don't feel any tension when members of various races interact, most likely because everyone is being screwed equally. I tell her, shootings in the US are primarily drug-related or domestic violence cases, but that doesn't seem to comfort her.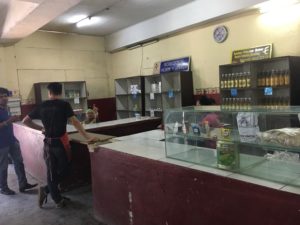 Shopping in Havana is a mix of tourist luxury and Soviet-era empty shelves. One store that purports to be a cheese shop had a few blocks of Gouda, some brick-pack milk boxes and little else. A market whose sign advertised seafood, smoked meats and other items, had a tray of headless catfish on the counter, smoked pork, dehydrated eggs, #10 cans of cabbage and tomato and little else.
A larger department type store had a refrigerated section with frozen ground meats and a few refrigerated cold cuts. Other sections sold appliances, furniture, clothes and various household items.
In the tourist areas, watches, pens, cameras, souvenirs and luxury items are on display. And just down the block, a man is selling strings of onions from a cart and a small shed nearby has makeshift tables with fruit and unrefrigerated meat.
After a few days of padding around, we run into a string of actual stores on Avenida Italia, Calle Italia?, including a supermarket with rows of stocked shelves, including pasta names I recognized, a deli counter and frozen foods. Not a huge selection but well stocked.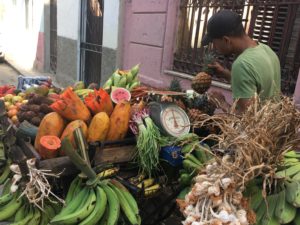 It's hard to shake the bizarro Latin-Lenin feel. Most have known nothing but communism since birth and compared to the US, it's a mess. However, when you look at other nearby countries; Honduras, El Salvador, even Mexico; Cuba is a safe haven where everyone is educated and fed.
I see a few small fishing boats off the Malecon but no real fish markets in our first two days of stumbling around the old city.
We take a tourist bus out to the plaza where Fidel Castro used to speak for hours, and see the huge metal relief depictions of Che and Camilo Cienfuegos, the personable revolutionary known for his cowboy hat and Tommie gun, who I have decided is the forgotten revolutionary.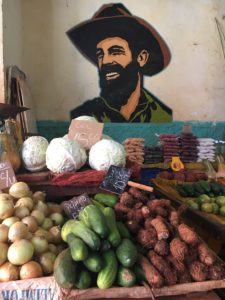 Then, it's a walk to a nearby cemetery, hop back on the bus and stop at a seaside hotel for lunch. The only seafood items on the menu at the poolside bar are fried calamari and a freshwater fish our waitress didn't seem very enthusiastic about. The waitress says despite being an island Cubans don't eat much fish. From what I've seen so far, seafood is mostly on the menu at tourist hotels, ranging from bacalao, or salted cod, to octopus, shrimp and lobster.
After lunch, we return to our apartment to rest. We drive through the Miramar neighborhood of former mansions that now are the offices of foreign companies and various organizations. We ask where the presidential mansion is and our driver says it's a huge property with a house not visible from the road. When we ask if Fidel stayed there, the driver tells us no one knew where he lived.
Back at the apartment I flip channels between a Sunday afternoon baseball game and a subtitles showing of a Hulk movie and wonder what the Yuban had for lunch.

The first thing Ernesto says after picking us up at the train station is that Santiago is the heart of Cuba.
A large port and rail terminal meet at the bay, where a distant Colonial fort overlooks the country's second-oldest city, guarding the channel. (And where I found a postcard of Camilo with Fidel before entering Havana during the revolution)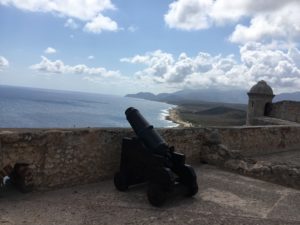 We later learn the city is the home of the black Madonna. She resides in a church outside of town that is a major pilgrimage site and sits in front of a mountain where escaped slaves fled.
Also known as Ochún, she's the goddess of love and femininity, dark-skinned and dressed in bright yellow.
Ernesto, still trying to understand our journey, notes all Cubans are white with a little black or black with a little white, before asking
"And why did you take the train?"
Milena, our next Airbnb host, gets the idea.
"Como Che en moto," she says, referring to his motorcycle trip across South America before meeting Fidel. Yes, it's a good way to meet the average Cuban, we tell her, adding that I'm more a fan of Camilo, who I think is like Pete?/George Best, the fifth Beatle.
The bathrooms were nothing more than a stinking metal tube extending up from the floor, I tell
Ernesto later during lunch at a restaurant in a patio overlooking the bay.


He says the Chinese are bringing in new trains.
"The problem is the government never has money for maintenance," Ernesto says. "Look at the rental cars, they're the cheapest Chinese cars available."
Our arrival is just in time for a weekly fair with the narrow streets closed to traffic. A live orchestra in the square plays classical music, and Cuban bands are on the side streets, where historic buildings abound, with plaques detailing its history.
In 1801, the rights of the escaped slaves and others were legalized and they were recognized as free men and landowners.
The Royal Order was read before the image of the black Madonna, also known as the Virgin of Charity. That marked Santiago as the first in the island where the freedom of slaves was proclaimed, 80 years before the formal abolition of slavery.
I chat with Milena about our differences, including race and crime and guns in America, telling her most shootings are drug related, and America is fairly safe. School shootings disturb her and while Cuba is poor, she's glad she can walk outside whenever she wants and feel safe, something I, as a recent stabbing victim, admit I don't always feel.
She lives in one of the eight or nine houses her grandfather had before the revolution.
A woman who worked for him lived in the house for years and he was able to sell the others before they were taken. However, he lost a store, a bar and parts of a finca, or ranch, where her father still lives and grows coffee as well as some produce.
A truck owned by her grandfather that was used in the revolution now sits in a museum nearby where he is credited with aiding the rebels.
"He really just wanted them to go," she said of the donation.
Some of her cousins now live in Europe but others stayed. With Castro's brother Raul retiring this year, everyone is waiting to see what will happen.
"What Cubans really want is for the blockade to be lifted so we can trade more freely with the rest of the world," she said.
I settle in to the comfortable house, waste a few 1CUC ınternet cards going online because she has a WiFi router and listen to my new favorite station, Radio Reloj, news bits read off while a clock ticks in the background. The station is the voice of the revolution, it seems, constantly informing the populace of developments across the country and the globe, and it hooks me.
After a day of rest, including mass where the priest stops the process to ensure I am a confirmed Catholic before giving me the host, we enlist Ernesto again and head to the mountains.
Ernesto, who drives a small Peugeot, says decades old Wiley's Jeeps and Toyota Land Cruisers can cost $40,000 because it's like buying a business. Milena's husband later says he's heard of a new car selling for 250,000CUC,
On the way out, we stop to see the
changing of the guard at Fidel's tomb, which is smaller than Jose Marti's memorial just to the left, and is marked by a large boulder with a plaque reading Fidel.
Ernesto later agrees Camilo is the forgotten revolutionary but adds outsiders weren't responsible for his disappearance in a flight to Havana that never arrived.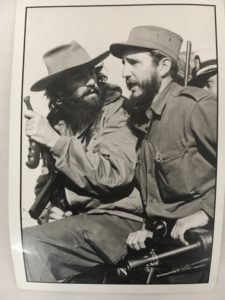 "He was the most charismatic of all of them," Ernesto says. "There's a story that Fidel was speaking once and Raul and Camilo were in back working. When they came out, the crowd cheered so much for Camilo that Fidel had to stop speaking. Fidel was smart and realized that Camilo was more popular and you know what they say, you can't cast a shadow on Fidel."
The car winds it's way up into the mountain to see the Gran Piedra, past guajiros on horseback out cutting brush for firewood. Little piglets suckling on their mother on the way up, strolling down the street on the way back.
The car goes as far as Ernesto is comfortable taking his livelihood, then it's a
hike up to the top of the big rock. Then down into the little row of houses and stands to see the coffee plantation started by a French planter who escaped Haiti with 25 slaves. Caught in the rain, we stopped for wood-fired coffee and overpaid, 5CUC for coffee and cigar.
And there it was, a little shack, an iron pot over a wood fire, a cloth coffee filter, a few cigars and some carved wood Orishas. All doled out by a few Yuban who have been in these hills for years, now making up prices for foreign tourists like any other Cuban.