"This is the corn chip of the everlasting covenant," I say, pulling the perfectly circular blue corn chip from the plate of nopal salad and hold it up before splitting it like the priest had done at mass a few nights earlier.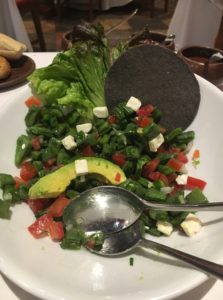 A few dozen attended the mass
in the ornate baroque cathedral. Catholicism isn't what it once was here, but everyone needs something to believe in. And I believe Oxxo will never run out of chips and drinks as long as we tithe regularly at the temple of consumerism that never closes.
Aside from the chips, food in Puebla wasn't quite what I expected.
There are tacos everywhere, but pumpkin seeds, walnuts, mole and sandwiches called cemitas also dominate.
Cemitas are mostly larger than I can finish comfortably. The milanesa variety is the most popular, primarily a breaded chicken cutlet but also made from thinly pounded pork. Others include ham and pata de res, stewed beef tendon from the hoof area, cut into gleaming gelatinous chunks dressed with pickled onion, pepper, carrots and bay leaf. The sandwich was served on a crunchy sesame roll with hand-shredded fresh cheese, avocado and a smoky chili salsa.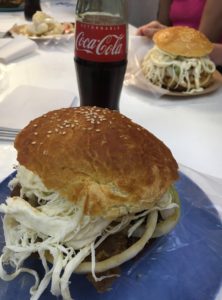 A large public market a few blocks past the Lucha Libre arena has people lined up at lunch for the 35 peso ($1.75) treat.
They also sell rapidly outside the arena, along with the Mexico version of shwarma, tacos al arabe, thin sliced beef piled onto a rotating vertical spit topped with a pineapple. Inside the arena, vendors purvey everything from beer to donuts and boiled shrimp, which are carried around in a huge reed basket lined with palm fronds. Meanwhile, fans known as Rudos screamed "Puto!" and other insults at the wrestlers and fans on the other side known as "Technicos."
They currently have plenty to scream about with drug cartel violence rising and political candidates being killed by the dozen. An outsider president, Andrés Manuel López Obrador, known as
AMLO, is elected the day I arrive. That marks my second trip this year coinciding with regime change. Raul Castro retired when I was in Cuba this spring. The timing prompts quips I am a Spanish secret agent.
"Nothing could be further from the truth," I respond and they nod in agreement (fools!).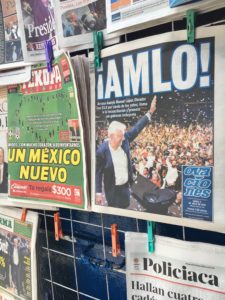 On the streets, people are hopeful, at least that they have a sympathetic ear at the top.
"He's promised a lot," one driver tells me. "Let's see what he can get done."
Once again, we head off to eat.
For those seeking a sit-down meal, many restaurants hawk chili nogado, a stuffed chili topped with a creamy walnut sauce and pomegranate seeds. The stuffing usually contains meat, raisins, pumpkin seeds and other items that ends up being slightly sweet.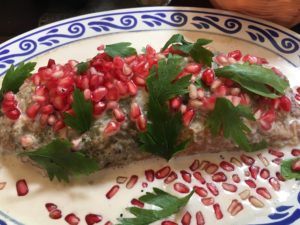 Another night, we head to the pasita bar and see a 7-11 across the street, keeping the faithful supplied.
"I hope there isn't any sectarian violence among Oxxo and 7-11 customers," I note, and Mike nods, acknowledging my newfound faith.
Apparently, pasita is a raisin liquor, the name derived from the Spanish word for raisin, pasa or la uva pasa, the grape that has passed.
A sign tells us pasita is a must have aperitif. The 30 peso shot comes with a toothpick skewer holding a chunk of fresh cheese and a raisin. It's sweet but the slightly salty cheese cuts through that a bit and the alcohol does stimulate my appetite, helping revive me from the near coma the cemita induced at lunch.
So, it's time to decide where to eat another meal.
There's good food at all price levels. Meals at white tablecloth places can be $25 each including a glass of wine, an espresso and snifter of brandy. One excellent Spanish-Mexican fusion place cured their own jamon from pigs grown nearby.
Snacks, known as botanas, also abound.
They can be as simple as
potato chips in a cup with hot sauce or mayo or both. Or jicama slices with chili powder, nacho chips, shrimp salad, etc. On the cooler end are ice pops known as paletas with flavors ranging from various fruits to
cucumber and chili.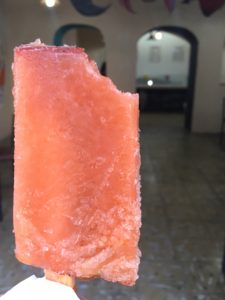 We stop into a place that had been recommended and I give the pipian a whirl. It's either stewed pork or chicken bathed in a red or green sauce of crushed pumpkin seeds. The green isn't spicy but has a pleasant herbal, nutty character. Lipika gets arrachera, thin sliced skirt steak, and Mike has chicken tinga, shredded chicken breast in a red chile sauce. A girl tries to sell us a craft beer and the waiter promotes the nogada but we've decided otherwise and leave later with half our entrees in doggie bag styrofoam clamshells, thinking we might eat the leftovers the next day. Halfway back to their apartment we run into a woman with a child asking for money and she takes the bag instead when we offer it.
The day before, a guide named Carlos drives us to Cholula, where a Catholic church is built on top of a pyramid shaped temple where children were once sacrificed. Before learning that gruesome history, we stop for lunch at a restaurant with a view of the church, politely declining a free sample of chili-flavored grasshoppers from a vendor outside. I try a little strawberry flavored pulque cactus drink, a syrupy cloudy alcoholic beverage, clear my palate with some beer and order pork with huitlacoche, a type of corn with fungus that surrounds the kernels. The taste is mushroomy and pleasant.
Then it's a quick trip in tunnels under the temple and a walk around the perimeter where Carlos educates us on the history of the temple and the human sacrifice ritual. Next, he drives us to nearby Tlaxcala, where four indigenous leaders later converted to Catholicism, making the town the cradle of the mestizo culture that eventually developed.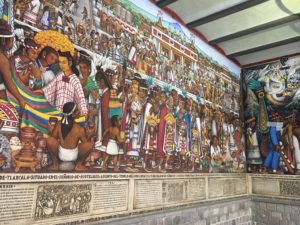 Nearly two thirds of Mexicans have indigenous blood, he tells us.
Conversion took off following the appearance of the Virgin Mary at Guadalupe to a poor Indian. He finally convinced the local bishop when he brought out of season flowers in his tunic, which had the image of the Virgin when he poured them out.
Carlos says the image also contains items the man could not have been aware of if he drew it himself. I ask if that was the key to the conversion.
"The Aztecs didn't fail because they weren't strong" Carlos says. "They lost the support of the people."
We think about this later as I pick the last corn chip from a wicker basket.
"Don't worry, have faith, there's more at the convenience store."