Manuel, Francisco y Gumersinda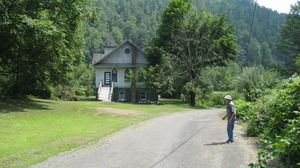 My grandmother first came to West Virginia at about 14 or 15 years old with her brothers Manuel and Francisco, my father tells me.
Of four sisters, only Gumersinda Tarano Priede went with them. Primitiva, Amelia and Delfina stayed behind, although Delfina, the youngest, later went with her husband to Argentina.
Gumersinda and Manuel eventually made it back to Iguanzu, the small Asturian mountainside village where they were raised, and died there. But not before Gumersinda, known as Sinda to most, went through two husbands and all of her children moved back to the United States, where they all live today.
Her parents didn't make the trip and my father isn't sure how the brothers decided to go to West Virginia bringing their sister with them, but it wasn't unusual for Asturianos to head West in those days. The luckier ones returned with New World earnings and built Casas Indios, ornate summer homes that still dot the northern Spanish countryside.
Driving through the green hills of southern West Virginia I can see how the countryside would convince some to urge their families to join them _ the mountainous terrain is similar to the Asturian countryside, the work was no more backbreaking and they were already accustomed to poor or indifferent management.
We spend the morning and afternoon heading southwest from Baltimore in brand-new Volvo S 40 Zipcar, eventually tooling through a national forest and past what we think is the Greenbrier golf course that had hosted a golf tournament we watched on television the weekend before.  A short time later we pull into Beckley, which seems to be a series of strip malls, car dealerships, big box stores and supermarkets surrounding an aging downtown. As always, my father begins to fret about finding someplace to stay before the sun goes down, so we get a room at a Marriott Courtyard next to an Outbacks and an Applebee's.
We then head out again to find Mount Hope and Carlisle.
My dad was born in Carlisle and thinks his mother and uncles may have spent some time in Mount Hope, but isn't sure.
 Mount Hope isn't far, about a dozen miles north on Route 19, just before the spectacular arched bridge that spans the New River Gorge, so we go before dinner. The town is much smaller than Beckley, but the pattern repeats; an aging decrepit core with some nice homes a little further afield.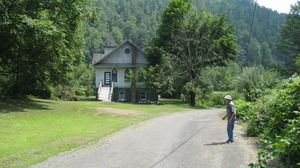 The next morning, we head to Carlisle, a row of homes along a quiet wooded road and a brick country store, where he believes his uncle Francisco ran a pool hall. Apparently, Francisco was smart enough to escape the mines and became fairly wealthy, but not smart enough to deal with women and wealth. He never married and died, my father heard, penniless in California.
``In a chicken coop, the whores cleaned him out,'' my father says, although he's not really sure of the details, just that he never got married and that he had scraped together something like $35,000 at one point during the Depression. Manuel never got married either. My father thinks he retired about 1955 because he saw him when he visited his mother during his honeymoon in 1956.
After taking in the view of the bridge at a nearby park, we have breakfast at Biscuit World and visit a coal mining museum in Beckley. We take an old coal mine train into a mine shaft where our guide Marvin shows us how to light a hissing carbide lamp powered by pellets dropped into water and explains how miners were paid by the ton, using dynamite to free the coal and then shovel it into cars. A woman taking the tour with us tells me her family came from Poland, and she had heard the various groups got along although there were frequent strikes. During the tour, we  also see equipment donated by a company that had a mine in Tams, the clue needed to find another of the towns my grandmother lived in.
My father knew his half-sister Maria was born in a town pronounced Tem-Mes, Tam-mes, or something like that, and once we saw the equipment it was easy to find by asking Marvin and the woman, who both know the area well.
Tams, or what once was Tams, is about 20 miles south of Beckley. A church and some of the homes remain, but the road is rutted and what was Tams is now reachable only by ATV's, 4x4s, hikers, and other rough-terrain approaches.
Life in Tams wasn't bad by some accounts.  My father says his mother told him they went fishing occasionally. She also washed the clothes of single miners, and sewed for those who needed it, making some extra money.
The owner of the mine, Major Tams, was a life-long bachelor and lived in the town his whole life, walking the streets, asking children about their families, according to coalcampusa.com
He segregated the town into sections for white, black and foreign minors, but he paid more than the union wage, and built a movie theater. After the mine closed, he lived in his a bachelor cottage until he died in the 1970.
Sinda's neighbors were black, my father said.
``She said they were very good people,''' he said, adding the two families would help each other with various things.
Apparently, Sinda's first husband worked there, but became ill and went back to Spain for treatment. She eventually followed him there with young Maria, but by the time she arrived, he had died. She wrote her brothers, who told her to return to West Virginia, and she did, later meeting my grandfather and giving birth to my father in Carlisle. By 1932, the Depression had fully set in and the family moved back to Spain, where my father's younger brother, Francisco, and sister, America, were later born.
``There were a lot of huelgas (strikes),'' my father said. ``She hated that because there was no money. After a while there was no more work, and they went back.''
Her second husband, also named Francisco, was from a small Andalusian town outside Aracena known as La Arcilla de Rio Tinto and that's where they went. The large Rio Tinto mining firm gets its name from the region in southern Spain sandwiched between Sevilla, Huelva and Extremadura. However, Francisco Dominguez also didn't live long out of the mines and when he died a few years later, the again fatherless family moved first to Asturias during the Civil War and later to La Facha, a small village outside Ourense, where her first husband had property.
In the 1950s, her daughter Maria went back to America with her new husband Gilberto, and the rest of Sinda's children followed. But despite the efforts of my father, who traveled once in the 50s or 60s to West Virginia for documents to bring her back over, she had had enough of America, moving back to Asturias, where she lived with her sisters until the early 1970s when she died.
Posted by Alex at
08:07 PM