August 16, 2010
Manuel, Francisco y Gumersinda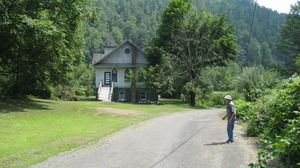 My grandmother first came to West Virginia at about 14 or 15 years old with her brothers Manuel and Francisco, my father tells me.
Of four sisters, only Gumersinda Tarano Priede went with them. Primitiva, Amelia and Delfina stayed behind, although Delfina, the youngest, later went with her husband to Argentina.
Gumersinda and Manuel eventually made it back to Iguanzu, the small Asturian mountainside village where they were raised, and died there. But not before Gumersinda, known as Sinda to most, went through two husbands and all of her children moved back to the United States, where they all live today.
MORE...
September 20, 2009
But wait there's more....
Coming soon another installment of the Count of Baltimore's travels in northern Spain, where he is known as El Conde de Baltimore. This time he's joined once again by O Conde Pai, as well as O Conde Tio, who returns for the first time to the childhood home he fled during the Franco regime, and his uncle's son, O Conde Primo.